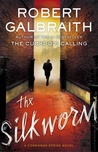 The Silkworm by Robert Galbraith
My rating: 4 of 5 stars
Well whaddaya know, I guessed the killer!
Usually I never even try to guess the killer of a mystery novel; that's not what I read them for. I like the characters, the conversations, the hidden narratives, but I don't much care about puzzles.
Still, looking at one of the elements of the mystery (no spoilers, don't worry), I thought I know how I'd do that if I were the killer and from there it was obvious.
Not that this ruined the book.
I confess to having a soft spot for private eye novels, even though no one is publishing them any more (supposedly). The good news is that Rowling apparently intends to continue writing the series indefinitely. Hey, she revived the boarding school genre, maybe she can make PIs marketable again.